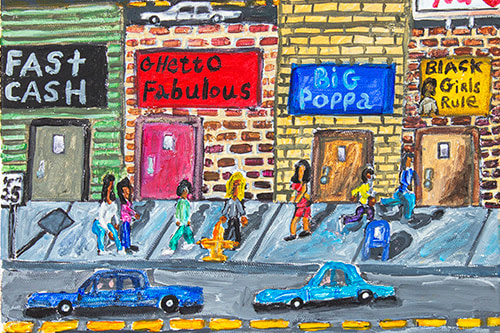 Harper's is pleased to announce the opening of Brick City, a solo exhibition of ten recent paintings by Cleveland, Ohio-based artist Michelangelo Lovelace. Building on decades of devotion to his craft, Lovelace has gained wide recognition for his dynamic and imaginative portrayals of street life inspired by his hometown.
The exhibition title, Brick City, refers to the nickname Lovelace and his friends gave the Cleveland housing projects where they came of age. The act of painting is a way for Lovelace to, in his own words, "escape from the realities of being poor." Yet his conviction to the practice is more than a therapeutic undertaking: throughout his career outside the academy, Lovelace has integrated himself in the local artist community and intently studies the discipline. Self-consciously building on the legacies of art brut and pop art, he also shares stylistic sensibilities with late twentieth-century artists such as Red Grooms and Martin Wong. Lovelace earnestly engages with the multiple spheres that art inhabits, from its history to its formal attributes to its role in cultivating community and identity.
Within his sprawling compositions and bold color palette, Lovelace captures the frenetic energy at the heart of urban centers from a bird's-eye vantage point. Pedestrians of all walks of life populate the streets and patronize businesses; cars, trucks, and police cruisers dart around in their lanes; and adverts with pithy witticisms pervade every corner of the cityscape. By painting freehand, Lovelace's unfiltered technique produces distorted scenes that take on a dreamlike quality. Accuracy in linear perspective and depth of field are abandoned in favor of exaggerated renderings and skewed, hallucinatory angles. Body proportions wildly vary despite their location on the picture plane, such as in The Sun Goes Down, and vehicles often appear elongated and compressed, such as in Keep Hope Alive. These idiosyncratic features highlight the artist's skill at visualizing a childlike sense of wonderment when encountering the ceaseless animation of city blocks.
The marriage of image and text further allows Lovelace to poetically integrate commentary on pressing cultural issues. Billboards become a conduit for him to broadcast catchphrases, rap lyrics, dictums, and advert-like messaging. Giving equal weight to the good, bad, and ugly elements of society—signs promoting sex work and drug use coexist with uplifting moral and political slogans—he at once conveys the solemn and humorous character of modern social life. Or, as New York Times critic Jillian Steinhauser states, "[Lovelace] has a distinct ability to dramatize the intractable social forces that threaten to drown us." Setting the city as the central stage in his paintings, Lovelace invites his audience to aesthetically process the overwhelming stimuli of urban life.
Michelangelo Lovelace (b. 1960) is a self-taught painter born in Cleveland, Ohio, where he continues to live and work. Most recently, Lovelace has presented his paintings in solo and two-person exhibitions at Fort Gansevoort, New York (2020 and 2018); Front Gallery, Cleveland (2015); and Springfield Museum of Art, Springfield, IL (2013). He has participated in numerous group shows nationally, most notably at the California African American Museum, Los Angeles (2019); MoCa Cleveland (2015); Kent State University, Kent, OH (2015); and the Cleveland Clinic Foundation, Cleveland (2008). Lovelace is a recipient of the Cleveland Arts Prize for Midcareer Artists and has been awarded multiple grants from the Ohio Arts Council. He has received critical acclaim from numerous publications, including Artforum, Artnet, New York Times, and The New Yorker, and is included in the permanent collection of the Allen Memorial Art Museum at Oberlin College; the Cleveland Museum of Art; JP Morgan Chase Art Collection; Kemper Museum of Contemporary Art; and Springfield Museum of Art. Lovelace is currently represented by Fort Gansevoort.